Bristol Rope Space
Bristol Rope Space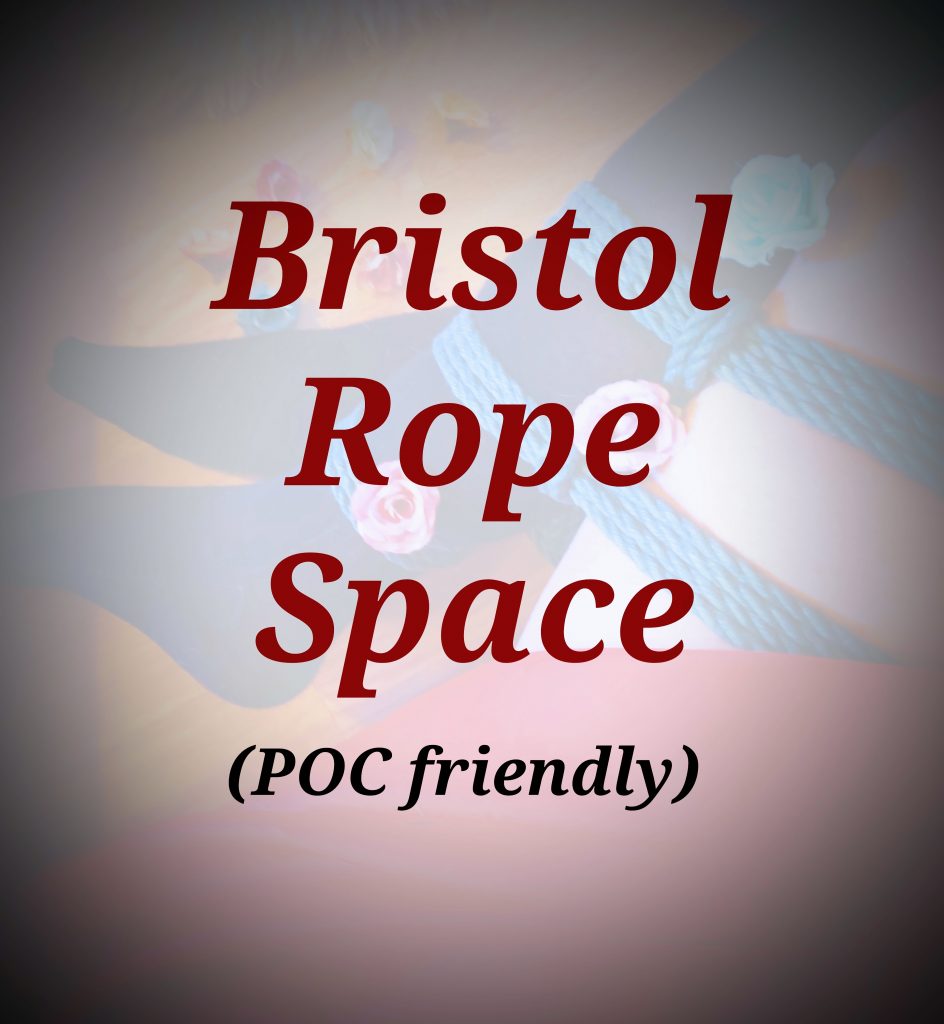 Mission Statement
Bristol Rope Space aims to provide a safe inclusive environment for all people to access rope education and to practice their rope skills. The focus is on building fundamental skills and the development of safe, sane and consensual rope practice environment. This is a space to develop self awareness and express ourselves in rope in its many forms, in accordance with the rules. Bristol Rope Space welcomes people of colour, LGBTQ+ people, people with visible or hidden disabilities and anyone otherwise marginalised from society.
The evening will consist of a class on the fundamentals of rope: Safety, consent, negotiations, a taught tie and Q&A, followed by time to practice.
Upcoming Dates
Sat 30th Oct, 7pm to 9pm SOLD OUT
Sat 18th Dec, 7pm to 9pm SOLD OUT
Sat 26th Feb, 7pm to 9pm
Sat 23rd April, 7pm to 9pm
Tickets
£10 per person, £5 concessions – please ask). Pay online quoting the date of the event you are attending (and the name you would like me to use in my files, if you wish it to be different to your legal name) via PayPal deanexashibari@gmail.com or CashApp £DeaNexaShibari
Alternatively, pay by cash at door (please check for availability of spaces before coming to the event).
What to Bring
Have proof of full vaccination and a negative lateral flow test in the last 24 hours.
Wear a mask. Wear comfortable clothes. You're welcome to dress up, but be mindful of how this may impact your ability to tie or be tied.
Bring your own rope. There will be some old community rope if you need it, but you will be required to clean them with the Clinell wipes provided before returning them.
Bring your own floor mat/rug/blanket if you can. There will be some mats available, but you will be required to clean these with the Clinell wipes provided after use.
Bring your own drinks and snacks. We do not have access to the kitchen.
Remember to bring your own after care resources and any emergency medication you use.
Rules
18+ only.
No racism, homophobia, transphobia, sexism, ableism, anti-Semitic, Islamophobic or any bigoted language or behaviour. Any such behaviour will result in being asked to leave from the venue immediately.
During rope practice: No nudity, sex nor bodily fluids. No neck rope, genital rope, or any additional play beyond rope. No consensual non-consent play. If you would like to go beyond rope practice, you must seek consent from the host and all attendees.
Have safety scissors if doing rope. Make sure you have any emergency medication with you. You must be willing to call 111 or 999 if there is a medical problem.
Be respectful – do not harass or flirt with people during the event. This is not a dating event. Do not touch people nor their belonging without explicit consent.
Please use scene names and any pronouns explicitly mentioned when interacting with others.
Photos are only allowed if no one else is visible in the photo and consent is sought from the host.
All these rules will be enforced. The host's word is final. Do not argue. Repeat offenses or a history of problems in any setting will result in a ban. Bristol Rope Space will cooperate with any law enforcement investigations, should any alleged criminality take place.
Covid Requirements
Under the current pandemic and in accordance with the expectations of the venue, all attendees are subjected to the following:
Only 15 people are allowed in the venue.
You must have received both vaccinations and have proof of this (eg vaccine card or NHS app).
You must take a lateral flow test up to 24 hours before the event. You can order tests for free here https://www.gov.uk/order-coronavirus-rapid-lateral-flow-tests
You must not attend if you have any symptoms of covid: persistent cough, fever, loss of taste or smell. Or feel generally unwell. Please see further details here https://www.nhs.uk/conditions/coronavirus-covid-19/symptoms/main-symptoms/#symptoms
Keep 2m apart from other attendees whenever possible. If you choose to tie with someone not from your household, then the risk and responsibilities are yours not the host's.
Face masks must be worn at all times, unless you have an exemption.
Only 2 people can enter the lobby area at a time or use the toilets that are adjacent to the entrance.
Exit is through the fire exit, to maintain a one way flow of people.
We do not have access to the kitchen area, so you MUST bring your own drinks and snacks. All of your waste must be taken with you.
Hand sanitisers and wipes must be used as appropriate.