Bristol Rope Space
Bristol Rope Space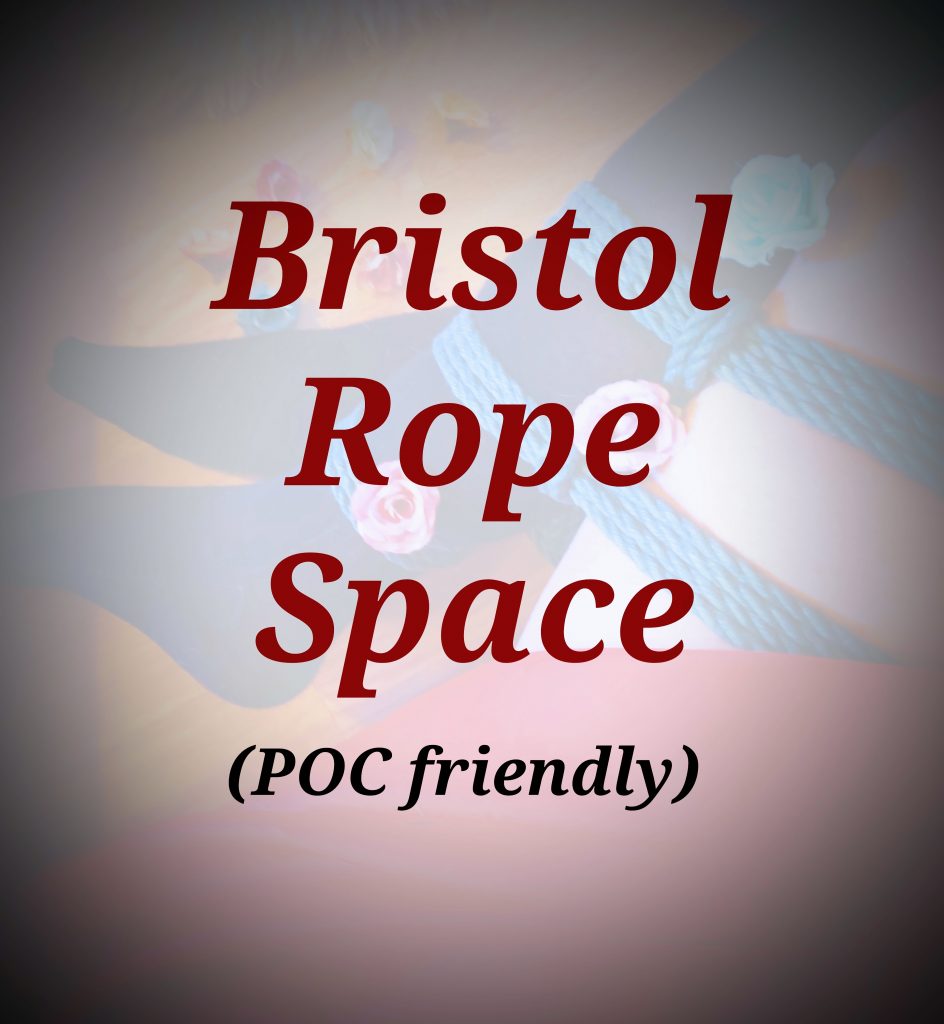 Mission Statement
Bristol Rope Space aims to provide a safe inclusive environment for all people to access rope education and to practice their rope skills. The focus is on building fundamental skills and the development of safe, sane and consensual rope practice. This is a space to develop self awareness and express ourselves in rope in its many forms, in accordance with the rules. Bristol Rope Space welcomes people of colour, LGBTQ+ people, people with visible or hidden disabilities and anyone otherwise marginalised from society.
The evening will consist of a class on the fundamentals of rope play, a Q&A, followed by a demonstration of a popular tie, and time to practice. Classes take place in a well lit studio space near Central Bristol, that is accessible and well resourced. Details shared of precise location on purchase of your ticket.
Upcoming Classes
Session One: Friday 28th October SOLD OUT
Theme: SPOOKTACULAR ROPE! Being so close to Halloween, feel free to dress up in your favourite costume!
Class Safety First: Your Body and Mind in Rope Exploring basic anatomy knowledge for Rope and how to create your own personal risk profile.
Demo will be basic single and double column ties.
Session two: Friday 30th December
Theme: WINTER SPARKLES! Being so close to Christmas, the New Year and yule tide, feel free to dress up in your festive outfits!
Class Consent and Negotiations: Delving into the structure of consent and how to make your negotiation process useful to you.
Demo will be a chest tie, and the pentagram vatiation.
Session three: Friday 17th February
Theme: ROPE LOVERS! With Spring in the air and Valentine's Day that week, feel free to dress up in your most loveliest of outfits!
Class: Developing Rope Scenes and Healthy Rope Relationships: How to make your rope play times fun, meaningful and free from abuse.
Demo will be a basic hip harness. A sturdy hip harness, possible adaptations.
Sold out events hold a reserve list, should there be any unavoidable cancellations. Please enquire via email deanexashibari@gmail.com if you wish to be added to the reserve list. Thank you.
Itinerary
7pm Doors open
7.05 Prompt start of class*
7.40 Q&A
7.45 Demo
8.00 Rope Practice
9.00 End of Event
*if you wish to skip the class, you are welcome to tie on your own/with your partner(s), so long as you do not disrupt the class in any way.
Tickets
PLEASE ONLY PURCHASE A TICKET IF YOU ARE VACCINATED AGAINST COVID19 AND ARE WILLING TO ADHERE TO THE RULES BELOW. THANK YOU.
£10 per person, £5 concessions – please ask. Pay online quoting the date of the event you are attending and the name you would like me to use in my files (if you wish it to be different to your legal name) via PayPal deanexashibari@gmail.com or CashApp £DeaNexaShibari
Alternatively, pay by cash at door (please check for availability of spaces before coming to the event).
Contact me via email deanexashibari@gmail.com for any further details.
Covid Requirements
Under the current pandemic and in accordance with the expectations of the venue, all attendees are subjected to the following:
Only 15 attendees.
You must have received all Covid19 vaccinations that are available to you, and have proof of this if asked by one of the Bristol Rope Space team (eg vaccine card or NHS app).
Exit is through the fire exit, to maintain a one way flow of people.
Please take a lateral flow test up to 24 hours before the event if they are free to you. Do not attend if the test is positive or if you are unwell. I will refund your ticket (minus any transaction costs).
Keep 1m apart from other attendees whenever possible. If you choose to tie with someone not from your household, then the risk and responsibilities are yours not the host's.
Face masks may be worn when moving around or mingling with others, unless you have an exemption.
Hand sanitisers and wipes must be used as appropriate.
What to Bring
Bring a mask. Wear comfortable clothes. You're welcome to dress up, but be mindful of how this may impact your ability to tie or be tied.
Bring your own rope. There will be some old community rope if you need it, but you will be required to clean them with the Clinell wipes provided before returning them.
Bring your own floor mat/rug/blanket if you can. There will be some mats available, but you will be required to clean these with the Clinell wipes provided after use.
Please bring your own water bottle. This will save plastic waste. There is a kitchen to use and some snacks will be provided.
Remember to bring your own after care resources and any emergency medication you use.
Rules
18+ only.
No racism, homophobia, transphobia, sexism, ableism, anti-Semitic, Islamophobic or any bigoted language or behaviour. Any such behaviour will result in being asked to leave from the venue immediately.
During rope practice: No nudity, sex nor bodily fluids. No neck rope, or any additional play beyond rope. No consensual non-consent play. If you would like to go beyond rope practice, you must seek consent from the host and all attendees.
Have safety scissors if doing rope. Make sure you have any emergency medication with you. You must be willing to call 111 or 999 if there is a medical problem.
Be respectful – do not harass or flirt with people during the event. This is not a dating event. Do not touch people nor their belonging without explicit consent.
Please use scene names and any pronouns explicitly mentioned when interacting with others.
We will be operating a colour wristband system. Blue to indicate you are a top, green a bottom. Please be respectful when approaching others to tie with.
Photos are only allowed if no one else is visible in the photo and consent is sought from the host.
All these rules will be enforced. The host's word is final. Do not argue. Repeat offenses or a history of problems in any setting will result in a ban. Bristol Rope Space will cooperate with any law enforcement investigations, should any alleged criminality take place.